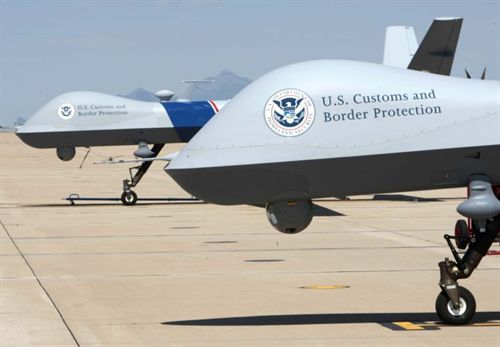 Last week, the Senate approved a $46 billion border security package as part of a comprehensive immigration bill, $38 billion of which was approved in the last week to attract support from the GOP. This bill includes:
$30 billion over the next decade to hire more than 19,000 new Border Patrol agents
$7.5 billion to build 350 miles of fencing along the U.S.-Mexican border and $4.5 billion to buy new border technology
4,595 unattended ground sensors, 104 radiation isotope identification devices and 53 fiber-optic tank inspection
Four new drones, on top of 10 unmanned aircraft that the Border Patrol already owns
6 VADER radar systems ($9.3 million each), an airborne technology operated from drones to detect migrants attempting to cross the border illegally
5 Black Hawk helicopters ($17 million each)
8 AS-350 model American Eurocopter aircrafts ($3 million each); in addition to the 85 it already has in its fleet.
Sen. John Hoeven (R-N.D.), who co-sponsored the bill with Sen. Bob Corker (R-Tenn.), said "I was just trying to work with our caucus to get as many of our guys to participate."
But is that really a good enough reason to pass such a massive bill?
Sen. Tom Coburn (R-Okla.) doesn't think so: "Taxpayer funds should enhance border security, not provide border stimulus for contractors. Unfortunately, the Senate bill does exactly that."
The biggest concern is that this over-the-top spending is not necessary and would largely benefit defense contractors who are looking for more opportunities as the U.S. reduces its presence in Afghanistan. Border security experts have noted that this is an impractical and poor use of resources that could be better allocated in the quest for border control.
Furthermore, the Center for Responsive Politics says that, "The parent corporations of the companies that manufacture the products listed in the bill and their employees have given nearly $11.5 million to federal candidates and campaigns since 2009."
The Senate claims that the bill would allow for an open, competitive bidding process, but watchdogs noted the difficulty in this. Scott Amey, general counsel for the Project on Government Oversight stated: "The agency is statutorily required to buy the specific items from the listed vendors. I'm unsure how an agency could hold a competition."
Even Sen. Corker admits that the plan is not perfect: "I wish I could tell you it was scientific. We felt like this was something that would get the job done."
Published in