9:09 PM More coverage of #YALcon14, this time from TIME Magazine:
Almost 300 student activists for YAL traveled from around the country to convene for a five-day convention filled with talks about liberty and appearances by prominent libertarian leaders. The convention kicked off Wednesday evening with an address by Sen. Rand Paul followed by a House of Representatives panel, featuring six members of the House Liberty Caucus.

"Anybody here from the leave me alone coalition? How about the leave me the hell alone coalition?" Paul asked the room to a response of cheers. "Some people are writing and saying there's a libertarian moment in our country right now."

Speakers went on to talk about key libertarian party principles of personal and economic liberty, then touch on hot button issues for millennials, including the NSA, social security and the legalization of marijuana. The panel's six congressional leaders detailed their personal journeys in politics and offered advice to the budding libertarian leaders. Rep. Thomas Massie (R-Ky) urged the student activists to "find more of you" and Rep. Mark Sanford (R-SC) told students to "be willing to lose."
8:35 PM Woods is describing a mention of Ludwig von Mises in a Batman comic (yes, seriously). Here are some panels we found:
8:27 PM Economist Dr. Tom Woods takes the stage—and it's his birthday! We got him a cake:
8:12 PM After dinner (BBQ!), we all came back to the main room for a pre-recorded speech from journalist Glenn Greenwald, who was instrumental in breaking the news of Edwards Snowden's NSA leaks. Some key quotes from his speech:
"We don't all have to be Edward Snowdens, [but we do have to think about how] we can defend the principles we say we believe."
Use your skills, talents, & resources to support and work for orgs & businesses which advance civil liberties, says Greenwald.
Also, Boycott all companies/services which cooperate with the NSA as much as you can.
The only hope the gov't has to stop whistleblowers is to "create such a climate of fear and intimidation."
"The Obama administration has launched an unprecedented and truly vindictive war on whistleblowers."
"All forms of mass, indiscriminate, suspicionless surveillance are illegitimate."
"It is always the case that how free a society is is measured by how it treats its dissidents."
5:05 PM Breakout sessions again! So much good information being given out right now.
In the 1950's about 1 in 20 people needed a government license to work. Today it's about 1 in 3. #YALCON14

— Charles Koch Inst. (@CKinstitute) August 1, 2014
The civil liberties panel is standing room only!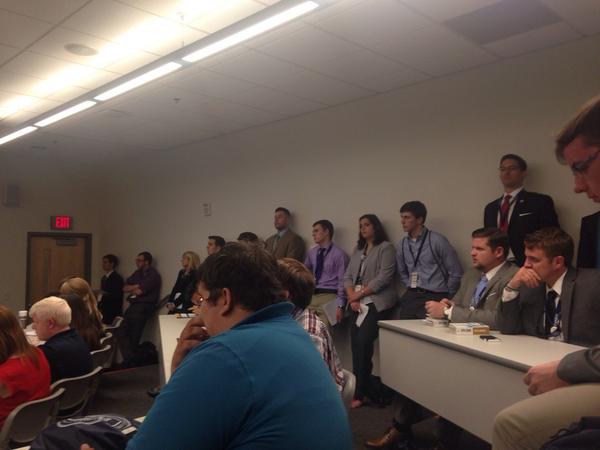 4:22 PM We're livestreaming again! Watch Jeffrey Tucker, author of Bourbon for Breakfast and bow-tie wearer extraordinaire, live now:
3:44 PM We just sent out a quick update email to our members and supporters from YAL Executive Director Jeff Frazee:
It's day three of the 2014 YAL National Convention!

I hope you saw my email yesterday with pictures and stories from our first two days. I can honestly say that so far, this has been our biggest and best convention to date!

I'd like to extent a HUGE thank you to our Student Sponsors for supporting us in this historic event.
In case you missed it, you can click on any of these media outlet logos below to see their coverage of YAL's convention.
| | |
| --- | --- |
| | |
| | |
| | |
2:10 PM The Leadership Institute's Steve Sutton is giving his famous "four boxes" lecture. You can almost see the minds being blown.
Also, free cell phone charging at the Koch Institute table! Love it. Brandon is so famous, too: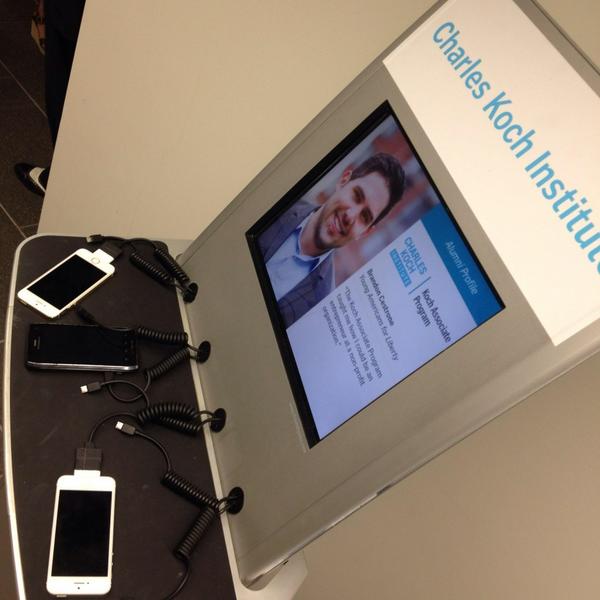 1:04 PM After lunch, we've got tons more awesome speakers, including FreedomWorks' Julie Borowski! If you're not familiar with Julie's super popular YouTube videos, check out this one she recently made about the war in Iraq:
12:49 PM Group photo! The liberty movement is alive and well at Young Americans for liberty. Here are more than 300 of our top activists—we're thrilled to have them all with us at this fantastic event.
12:41 PM And selfies BY Ed! Also lunch, which is burgers.
12:28 PM #SelfiesWithEd
12:20 PM Setting up for the group photo! We'll share the real thing soon.
11:41 AM Mike Rothfeld—speaking on "The Real Nature of Politics"—is generating his usual controversy among #YALcon14 attendees. Follow it on Twitter here.
10:04 AM Jack has started speaking: "Free market capitalism and technological innovation are not your enemy, as any young person with an iPhone can attest."
The outlet Jack edits, Rare, has also added another article about #YALcon14's opening events with Rep. Justin Amash on Wednesday night:
An Amash spokesman told Rare that the bill was a "sham" and did nothing to rein in the NSA. Thomas Massie chimed in on the subject as well, relishing the awkward town halls that happened all over the nation after Snowden went public. Watching politicians who supported NSA at these town halls, Massie said, "[was] like watching NASCAR for the wrecks."
Attendees have buckled down for another busy day of learning.
9:58 AM In the meantime, we're catching up on some of the awesome tweets from last night and this morning on the #YALcon14 tag on Twitter. Even if you don't have your own Twitter account, you can keep an eye on this tag for live updates from many of our 325+ attendees.
How do @SantaFeCollege students prepare for #YALcon14 day 2? Watching some Whose Line is it Anyway in our hotel room, of course! @YALiberty

— YAL at Santa Fe (@YALatSFC) August 1, 2014
#yalcon14 is turning out to be amazing! Can't wait for two more awesome days! #mattkibbe… http://t.co/XRirnyRrJg

— Lisa Car (@lisacanne) August 1, 2014
These are all notes to make us bigger and better this upcoming year. Who else is excited? #YALcon14 pic.twitter.com/h4m0TuNSdA

— YAL at SAU (@YALSAU) August 1, 2014
9:43 AM The main room is filling up fast as we get ready for the third day of the YAL National Convention. This morning we'll first hear from Jack Hunter, who cowrote Sen. Rand Paul's The Tea Party Goes to Washington and is now the editor of Rare.
Published in