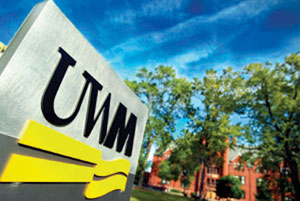 This past Thursday, University of Wisconsin Madison YAL chapter president Aaron McEvoy and I launched an invasion of the University of Milwaukee campus to begin a Young Americans for Liberty chapter at the state's second largest institution of higher learning.
Arriving early in the morning, we along with Leadership Institute Field Representative Sarah Morrison scouted out the best location to canvass the campus. While I had schlepped my activism table from Chicago to Milwaukee, Morrison advised me that setting up a table on a campus without a student contact to get permission from the administration was akin to asking to be kicked off campus. Settling on a large circular fountain that created choke points between classrooms and residence halls, we YAL representatives collected over 50 signatures throughout the day.
After a long day of tabling, the first Young Americans for Liberty information session and meeting was held in the food court at the Student Union. About 10 students who had signed up for the new YAL chapter's email list stopped by to hear about leadership opportunities and potential activism projects they could put together on their campus. One student was so excited to be a part of the new chapter that he left the meeting to start handing out Constitutions and film himself quizzing his classmates!
Never look at a campus and rule it off as too apathetic or apolitical. Without any solid contacts on the campus, we successfully held a precise invasion of the University of Wisconsin-Milwaukee's campus. Armed with only palmcards, Constitutions, and clipboards, we brought about a YAL chapter from nothing in a single day.
Published in